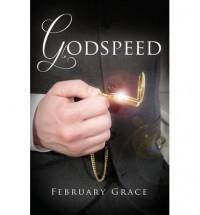 *I received this book from the author in exchange for an honest review*
Godspeed is a YA steampunk/romance that is reminiscent of great medical ethics works like Frankenstein and The Strange Case of Dr. Jekyll and Mr. Hyde. This is the type of novel I would love to discuss in one of my Philosophy classes. Such a deeply moving story about a man who is an enigma wrapped in a conundrum and the young woman whose life he saves through extreme measures.

Abigail Courage is a servant, mortally wounded as a result of the Dread Fever and turned out into the streets to die. She is rescued by Schuyler Algernon and ultimately saved by the scientific genius of Quinn Godspeed. The poor girl is thrust into a world of pain and confusion as her body tries to recover from the drastic surgeries to save her life. I loved Abigail's character, enjoyed seeing this new world and Quinn through her eyes. It's not surprising at all that she'd develop feelings for the man who saved her life.

Quinn Godspeed is an unusually gifted man. I would love to read the novel from his perspective, though I have a feeling I'd get lost somewhere along the way trying to keep up with his genius. Part humanitarian, part mad scientist, he just pulled at my heartstrings. Schuyler is intriguing in his own right. As the story progressed and more is revealed about this complicated man, my heart ached for him.

I loved the group of secondary characters, 'the freaks', as young Jib likes to call the lot of them. Several teens who have benefitted from Quinn's more outrageous medical experimentation. Though I loved how the story ended, I wouldn't mind a sequel featuring more of these teens, and definitely more romance between Quinn and Abigail! February Grace does such an excellent job writing; her prose flows out like lyrical verse. I was so drawn into the story that I completely missed a phone call...never heard my iPhone ring (and the ringtone is rather loud).

I highly recommend Godspeed to everyone middle school and up that enjoys an engrossing, fast-paced read. It was so different from most of the novels I've read lately, and a refreshing change at that. The romance is sweet, with a very innocent quality to it. Frankly, I loved everything about this book. Don't forget to bring the tissues...you'll need them.